Every year, we bring 24 women together who are artists, makers, and designers in the creative industry for our Conference Experience in a beautiful home on Pensacola Beach, Florida, steps away from the Gulf of Mexico.
This is the signature event we have become known for since our beginning in 2011 when we first began as Stationery Academy. And each year, the transformations and renewed confidence that occurs in the women who join us during this four day, all inclusive workshop experience are incredible to see take place.


Our 2019 Conference is SOLD OUT, however you can join the waitlist for the 2020 Conference below.
Our Fall 2019 Conference Experience will be our 14th event, and we've developed each day with intention to help you gain the clarity and confidence you need to bring your business to the next level, while time to focus in on what matters most built in to each day as well.

As artists, makers, and designers, you're creative business owners - you're creative founders.

It's hard to strike a balance between the creative side of our brain and the logical business side. Finding the time to create a business you love while honing in on the items offered in a way that only you can provide that will make you stand out rather than creating everything you possibly can is incredibly important, but it can be a challenge as well.

So instead of looking at an overall picture to see what matters most, you keep adding more offerings, more products, and putting on more hats in your business, but you're also finding that by doing so, you're simply exhausted. Overwhelmed. Burnt out, or simply frustrated because you aren't in the mindset to plan or know the decisions you need to make to move your business forward.

And you know something needs to change.
As creative entrepreneurs, we need to not only have the time to create our distinct products and services, we also need to be innovative, to adapt, and to have an incredibly strong foundation not only to continue to move our business forward, but keep it growing well, profitable and sustainable. Deciding to let things go and honing in on your why to create a business that will set you apart is not only difficult, but without guidance you may feel it is impossible.


Perhaps you first started your business as one you were incredibly passionate about, and lately you've felt a shift happening, and you're not sure how to find that passion once more. You may be wondering now how to get reinspired, or how to make the changes you need to build the life you love with a business you love just as much. Time spent at our Conference will help you to do just that.
"This experience has changed my life. I can't say that enough. I am so excited to implement what I've learned and to grow deeper relationships with my new friends. Without this Conference, I know that I would still be scrambling, trying to do all the things. I knew the brand I wanted to be, I just didn't know how to appropriately provide services as the brand I desired."
Amanda Means, Ms. Peach Plus Designs

While we teach mainly on business topics in main sessions when you are here, we also encourage you to think about the life you want to create while you are not building your business.

We are all meant to have an incredible life, and have a business that supports that life, not the other way around.

When you head home from our Conference, you leave not only with an incredible community of women who are there to support you and lift you up while you pursue the dream of a business that has been planted on your heart to do, you also have the tools you need to create a life that you love.
Our Conference is highly attended by women who are stationery designers, calligraphers, Etsy shop owners, graphic designers, artists, creatives and makers. Each woman attending participates in sessions designed with actionable takeaways, joins in engaging discussions, and becomes part of an authentic community.

It makes such a powerful difference when you have people surrounding you who are there to help you think things through as you grow your business ... and we have witnessed the tremendous impact it can make time and time again.


We encourage each and every woman to let your walls down and come as you are, so that we can help you right where you are in your specific season, and you can receive the tools, the knowledge, and the education you need to move your business forward well, with an incredible community of women surrounding you every step of the way.
Our goal is to empower and educate each person who joins us, giving you what you need to create the confidence in yourself as a maker, artist, and designer, while surrounding you with women who understand what it is like to run a creative business.
You'll be doing a lot of powerful, thought-provoking and mindset-shifting work each day while you're here, so our experience is all inclusive so that all you need to do is get here, and let us take care of the rest. Every detail is thought of, sweet surprises are nestled in to every day, and meals are even curated to your specific needs as well. We not only want you to feel pampered and cared for, but also seen for who you are and what you love.


The Society for Creative Founders Conference is a retreat-like, four-day conference designed to re-focus and re-energize your business goals within a community of like-minded creatives.


This all-inclusive experience will help you find clarity in the dreams you have and guidance from our experts and your peers with an on-going, elite community. You'll find the answers to so many questions you may have, and you will leave with specific action steps and a business plan for your creative business.


The transformations that happen for the women who join us and then apply what they have learned in their four days here at our Conference is incredible.

Whether you've been in business for a while or are just getting started, having a strong foundation is the basis of everything. Our Conference this fall will include sessions on the six main pillars that make up your business foundation:

Your Core, Your Client, Your Brand, Your Marketing, Your Money, and Your Plan.

Every session of our Conference Experience that will help you to either establish your foundation for the first time, or revisit it to make your business even stronger moving forward. Each of these sessions build upon each other, and are led by fellow creative entrepreneurs who are experts in these specific aspects of their own businesses, and the content they will include in their sessions will be delivered in a workshop setting. These are all high-level discussion topics, where we will not only be walking you through how to set up strategies, you'll learn tangible things moving forward.


At the conclusion of each session, you'll have already accomplished movement toward your goals, having spent time implementing what you've learned in the sessions themselves! Our speakers don't give presentations where you take notes to work on things later …. we have time built in to every session to work on the things you're learning right there with us, each and every day.
"I strongly believe that business owners need to invest in proper education for their businesses to be successful. Something that goes beyond social media, beyond asking other creatives questions.

At the Conference, I felt "home" even when not knowing absolutely anyone. I LOVED that all levels of businesses were there; I debated if it was worth it to go being established for a bit now, and it just filled my heart to see that I could help others and they also encouraged me."
- Jessica Smith of JesSmith Designs
Your Core:
Finding your Voice as a Maker, Artist, and a Designer
led by Erin Kendrick of Erin is Creative.Co

Finding your voice is necessary to help you stand out from the crowd no matter what business you're in. Your unique voice is what draws clients to you and what keeps them coming back for more.
Your Client:
Who is your Client, really??
led by Chloe Minyon of English Tea Paperie

Will knowing my ideal client really help grow my business? How do I figure out who my ideal client is? How do I reach my ideal client? These are really important questions to ask when starting your business, but also on regular basis well into your journey as an entrepreneur.
Your Brand:
Bringing your Brand to Life, way beyond your Logo
led by Kristin Wilson of the Society for Creative Founders
This session is focused on building a brand that is one your feel is authentic to your business, that will continue to develop over time. This session will help you create a visual brand in which you feel comfortable and authentic.
Your Money:
Getting to Know your Finances Well
led by Janet LeBlanc of Paper and Spark
This session will include an overview of your business finances from all angles, leaving you with the confidence & clarity you need to go home and conquer (or embrace!) your numbers. Janet will walk through topics like doing the books for your business, understanding your tax responsibilities as an entrepreneur, setting smart financial goals for your business, and how to truly price for profit.
Your Marketing:
Marketing Avenues + Planning Launches
led by Kelsey Baldwin of Paper and Oats
One of the biggest lessons we end up learning as creative businesses is that doing the creative thing we do to make money is only about 10% of what we need to do to have a successful, sustainable business. The other 90% is marketing. In our Marketing session, we'll focus primarily on email marketing and your launches, to set you up with marketing well moving forward in your business.
Your Plan:
Business Planning from a Place of Rest, Not Stress
led by Kristin Wilson of the Society for Creative Founders
Our final session is focused fully on creating your business plan. We will walk through all of the details needed to make a solid plan moving forward and the importance of setting goals, and provide you with different tried and true methods to help you determine the planning style that works best for you.
Small Group Sessions
We don't want to just fill you with so much information that you go home overwhelmed. In fact, we want it to be the opposite of that entirely.
Each day, we'll have small groups each day to further expand upon each session and give you the opportunity to focus and work through the things you have learned, with more quality time with each of our speakers as well. By doing this, you'll be able to go home with even more of a plan, rather than needing to figure it all out on your own without more of an established community by your side.
One on One Sessions
If you want to have specific one-on-one time with our speakers to go over specific details concerning your business exactly, one on one sessions are also able to be booked each day with the speakers throughout the Conference.
These sessions are priceless, and are available to book on an individual basis prior to our Conference begins in the fall. Having one of our expert speakers to have a unique look in to your business on a variety of topics is an incredible way to gain insight and gain valuable insight through time spent with our speakers.

Our six speakers joining us this year with more than 55 years of business experience combined. These women are all makers, artists, and designers, and can't wait to experience this conference with you as well. They'll be present for every session, will be available for one-on-one sessions during our Conference for you to be able to receive experienced insight for your specific business while you're here, and will also be leading small groups each day. These women genuinely care about your success as a creative entrepreneur and we are thrilled to have them join us!
Chloe Minyon
English Tea Paperie
What started as a hobby while waiting for her green card turned into English Tea Paperie — first a lifestyle blog, then a custom illustrated notecard side hustle that evolved into a six-figure bespoke wedding invitations and papers design studio.
Continue reading about Chloe ...
---
Chloe owes her success to the unassuming but mighty watercolor paintbrush. Originally from London, Chloe incorporates her British roots into her American dreamlike designs and business model.
Having been featured in Martha Stewart Weddings, Domino Magazine, and Style Me Pretty, among countless other publications, Chloe's reputation for high quality design and attention to detail is no surprise.
As if running a business full time wasn't enough, Chloe also created a mentoring program for startups, a retail shoppe for her prints, and is an educational speaker for creatives all while balancing her personal life of being a loving mother, wife, and active member of her church. She has a passion for helping others reach their full potential through education and collaboration.
Janet LeBlanc
Paper + Spark
Janet LeBlanc is a Certified Public Accountant, serial-entrepreneur, maker and mama located in Houston. In 2014, she founded Paper + Spark, where she offers educational content, tools, and spreadsheet templates for makers.
Continue reading about Janet ...
---
Janet's goal is to help creative entrepreneurs become more confident and less confused about the financial side of running their business. Janet is passionate about empowering makers and helping creatives bring their entrepreneurial dreams to life with clarity.
Erin Kendrick
Erin is Creative . Co
Erin Kendrick is a visual artist and arts educator from Jacksonville, Florida. She has exhibited work in museums, galleries and alternative spaces throughout the United States. Erin is a visual artist, graphic designer, and arts educator.
Continue reading about Erin ...
---
After receiving her formal art training at Florida State University (BFA, Studio Art, 1999) and Georgia State University (MFA, Drawing & Painting, 2003), she worked for many years as a Studio Artist and Arts Educator in Atlanta, Georgia.
In 2009, she stepped away from fine art and relocated back to her hometown to build a career as an Event Designer and Graphic Designer (E. Street Design Co.). Seven years later, she returned to art making and exhibiting in 2016. Erin is currently teaching at the University of North Florida and Jacksonville Arts & Music School (JAMS).
She is one of the 2016 Community First Foundation Art Ventures Individual Artist Grant recipients, a two-time "Lift Every Student" Artist-In-Residence Grant winner, and a member of the Arts Advisory Board for Duval County Public Schools. In 2018, her own things, her first solo exhibition since restarting her art career, received critical acclaim and she was awarded Best Visual Artist, Best Art Exhibition, and Best Arts Educator in Folio Weekly's Best of Jax 2018 poll. Erin maintains a studio at CoRK Arts District in Jacksonville, Florida.
Kelsey Baldwin
Paper and Oats
Kelsey Baldwin is an author, designer, and entrepreneur. She runs Paper + Oats where she helps fellow creatives organize, design, and market their digital products, so they can share what they know, and look good doing it.

As a single mother, she is also an advocate for women learning to sustain themselves and gain independence through online business.
Continue reading about Kelsey ...
---
Kelsey's journey as an entrepreneur started way back in college when she started taking her first freelance design jobs on Craigslist. Since then, her business has grown + evolved through seasons of 1-on-1 service work to passive income products to online courses.
Her first book – Strong Girl, Brave Girl – chronicles her journey through divorce while being pregnant. She lives in Missouri with her daughter and dog, forever in search of their next ice cream cone.
Kristin Wilson
Society for Creative Founders®
As the owner of the Society for Creative Founders, Kristin works closely with artists, makers, and designers to help them to grow their business well while encouraging them to create a life they love.

She fosters an online community, the annual Creative Founders Conference, teaches monthly educational classes, and hosts additional in-person retreats with guidance and knowing that all businesses can be successful with the right tools and education.
Continue reading about Kristin ...
---
Beginning her entrepreneurial journey as a wedding planner in 2010, she is also the founder of Grace and Serendipity, a bespoke wedding invitation design business specializing in the art of letterpress. Kristin was named one of Stationery Trend Magazine's Top 40 under 40, and her work has been featured in Style Me Pretty, Green Wedding Shoes, Cosmopolitan Bride, Wedding Star, along with local publications.
She is a wife and a mom to three who lives in Pensacola Florida, and on any given day you can find her with reheated coffee in hand and an instrumental playlist humming softly in the background, wholeheartedly pursuing the adventures that life places into her path.
Emily Ley
Simplified®
Joining us as a special guest will be Emily Ley, the founder of Simplified® - a brand of planners and organizational tools for busy women.

Emily has been featured in Forbes, Family Circle, Better Homes and Gardens, Glamour, and Good Housekeeping. She has been recognized with numerous awards, including Best New Product at the National Stationery Show as well as Top 10 Designers to Watch by Stationery Trends Magazine.
Continue reading about Emily ...
---
Emily and her team recently collaborated with AT-A-GLANCE® to create gift and planning collections carried in Office Depot, Staples, and Target.
Emily is the author of national bestselling books, Grace, Not perfection: Embracing Simplicity, Celebrating Joy and A Simplified Life: Tactical Tools for Intentional Living. Now as an author, entrepreneur, wife and mother to three, Emily lives in Pensacola, Florida with her husband, Bryan, and their son Brady (8), and twins Tyler and Caroline (4).
"Sitting under the teaching and wisdom of these women who aren't there to judge but rather to help educate and empower you no matter what point you are in on your journey opened my eyes to the truth that I can do this. I am capable of setting value to myself and my work and creating a professional business with my art. Being surrounded by such a community of creative women as I was who were all for one another was and will forever be life changing to me."
- Katie Mangrum of Momentary Expressions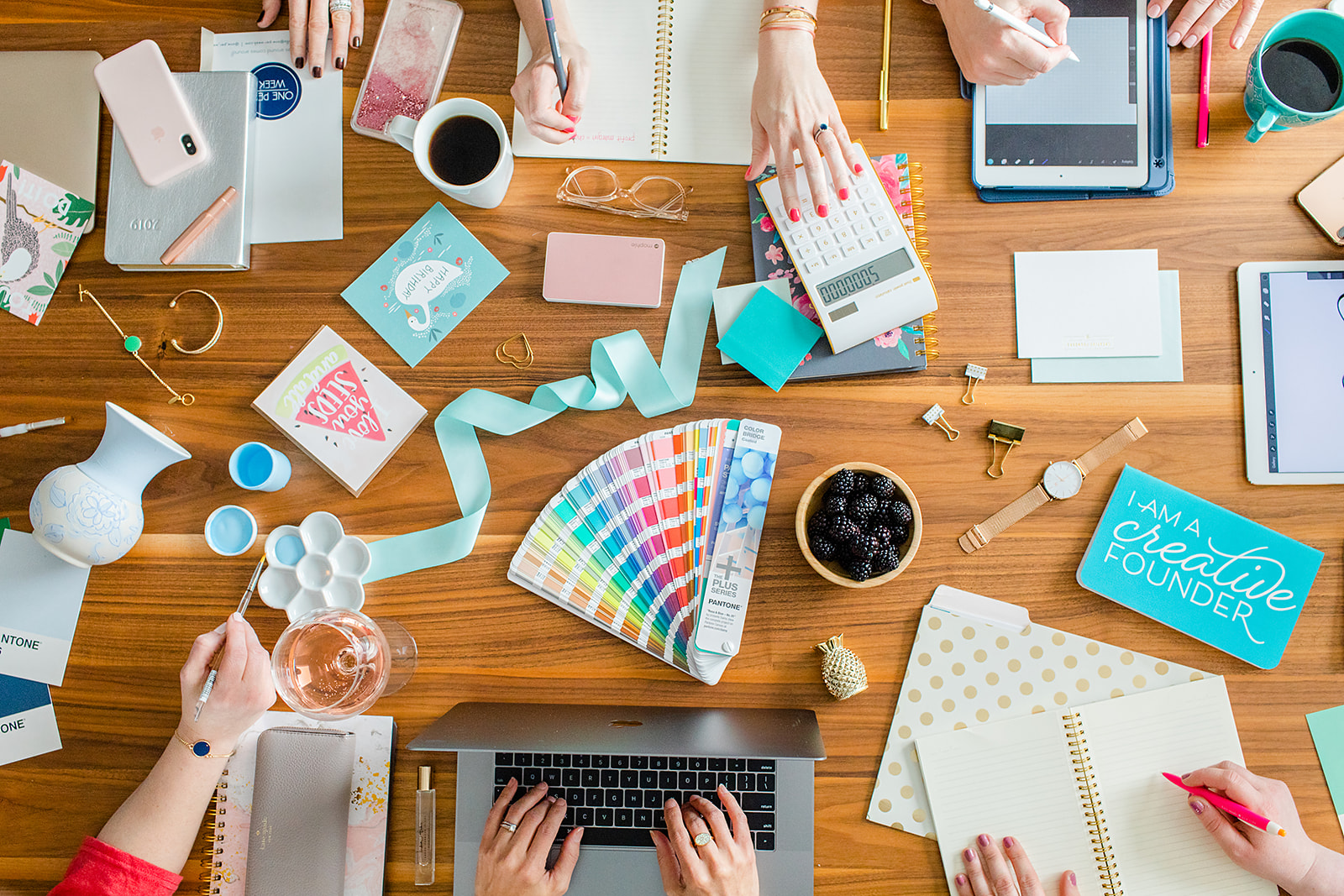 The 2019 Society for Creative Founders Conference will be in Pensacola Beach, Florida.

You will notice right away that this is different from the "hotel conference" experience. It is very important that we have a private space where we can open the doors and see the beach, have a calm, relaxing atmosphere, and the intimate setting where genuine conversations can naturally unfold, having meals catered both at our beach house and nearby restaurants, with time to get to know each other to enjoy your time here fully.

We're striving to develop even closer relationships and late-night conversations with this retreat-like experience, so our Conference takes place in a private beach house we have to ourselves with all the comforts of home.

We know that a lot of your experience is based on how you can unwind. So, we've set it up in a way that you get to choose if you have one roommate or three determined on the room type you choose when you register. You can determine what works best for you with the way that you will learn the most here. The expansive balconies, sunset views, comfortable common areas, and having the beach literally right outside of our door will all allow for lots of late night chats in a more comfortable environment after our sessions conclude each day.
"I was nervous about having roommates I wouldn't click with, but from the moment we all stepped into our shared room, there was an instant camaraderie. Everyone was so kind and open - it was a really special experience to share a room with 3 other women who were so wonderful! I think if I'd had a room by myself, I would have definitely been missing out on the opportunity to connect with some of the ladies on a deeper level. The late night chats we had in our room were some of my favorite memories from the conference."
- Laura Knopp

Our 2019 Conference is SOLD OUT.

However, if you'd like to potentially join us for our 2020 Experience, sign up below!
"The Creative Founders Conference surpassed anything I could have imagined. Being surrounded by creative women who know what it's like to run their own small business – being able to bounce ideas off of one another, and challenging and encouraging each other was the BEST!
Not only did I leave feeling inspired and ready to hit the (creative) road running, but have made friendships and connections with other women makers that I didn't think was possible in such a short period of time. The positivity and encouragement from each individual was mind-blowing. I highly recommend others who are seeking this type of experience to leap and go!"
Tyler Bedwell of Studio B Print Shop
If you'd like to read even more about our Conference in the form of a blog post that a few of our Attendees have written, click the images below to go directly to their websites to read more about their personal experiences!
+ When should I plan to arrive and depart?
Please plan to arrive on Wednesday, November 6th at 2:30 pm CST, as our Conference will begin at 3:00pm.
For departing, We will have a "soft-close" for our Conference this year. This means that if you would like to head home on Saturday afternoon after our lunch ends at 1pm, you can do that.
If you want to book a One on One Session with our Speakers, we suggest to plan on booking a flight that departs after 6:00pm on Saturday.
All attendees must head home by 4:00pm CST on Saturday, November 9th.
+ What should I do if I arrive before the Conference begins to Pensacola?
You can arrive as early as you would like to Pensacola! We simply want to express that the house will not be available to enter until 2:30pm on Wednesday. You are able to drop off your luggage, but it will literally be a drop and go option. Please contact us if you have additional questions about this in particular.
+ With the Conference at a beach house, will we have housekeeping services like hotels have daily?
One main goal for our Conference Experience this fall is to feel a little bit like a vacation with a relaxed environment and less like the traditional Conference Experience in a hotel, and so in order to do that, we did have to make some adaptations. The house we will have to ourselves for the entire Conference Experience does not come with a housekeeping service, so we will not have some of the amenities included that come with a hotel, like a daily maid service or room service.
We will still provide fun amenities that you typically have at a hotel, but it definitely will be different than a hotel stay. Since we are all adults, we'll plan to keep the common areas clean ... keeping your rooms clean, however, will be up to you. ;) Are we implying you'll need to do things like wash dishes or take out the trash? No, absolutely not. We definitely plan on pampering you a bit and want you to truly enjoy every aspect of your time while you're here. However, if you want to order room service to be delivered to your room, well, that won't quite be an option.
If you have additional questions about this since it is different from a typical hotel experience for your stay, please let us know!
+ Is the Society for Creative Founders Conference right for me?
This conference and community is for makers, artists and designers creating original, private label products. Over the last seven years since we began, our Conference has included attendees who are artists, wedding stationery designers, branding designers, website designers, stationery designers, graphic designers, illustrators, hand letterers, calligraphers, artisan gift designers, interior designers, event planners, jewelry designers, cookie designers, and crafting bloggers. Each one of these women found it to be a great fit for what they were looking for specifically in their business.
We've had women join us who have an Etsy shop but don't have their own website yet, or on the flipside, those in this creative industry who are wanting to move into another side of it, and they come to set up a plan and focus entirely on their new venture while they're here.
If you're planning to sell anything you create, make, or design as a tangible product (even printables), this is the place for you.
+ I'm not sure I can attend this time. When is the next conference?
There is only one in-person conference each year, so if you don't want to wait until the fall of 2020, you'll want to register for one of our seats now. We do not currently have any other in-person events planned for 2019.
+ What are the prerequisites for attending the Conference?
Typically, our attendees are solo-entrepreneurs who have been in business for 1-8 years, but we have also had people join us who have been in business for a few months or more than 10 years to think of it as a business refresher as well!
Our sessions this fall are designed to meet you wherever you are on your business journey – it gives you an intimate, open, interactive format to learn, share experiences, triumphs, trials, and connect with others who've either been in your shoes or are standing right where you are now. If you're feeling like you need to hit the reset button on your business, or you're ready to get serious about your part-time hustle, you should join us.
+ Do you have payment plans?
Yes, we do offer monthly payment plans! You can reserve your seat for $500 at any of the rooming options available. Check the individual room information on for a monthly breakdown for payments. All registrations, even if done through a Payment plan, will be paid in full by October 7, 2019.
+ Where do I book my room?
Accommodations are included in your registration fee. Roommate assignments will be made by us, unless you request otherwise on your registration form.
+ Is there a rate that doesn't include staying on-site?
Part of the experience of the Conference is the "retreat" and bonding with the other 24 creative entrepreneurs that attend. In addition to the content, resources, and education, the relationships you will create are invaluable and they continue past your time with us. We have experimented having a rate without an on-site experience included and saw a significant difference in the experience of the women who didn't stay in the house vs. those who did. All registrations include your accommodations.
+ How do I know who my roommates will be?
Unless you specify a particular roommate, your roommates will be the women who sign up to be in the same room with you. We have found there are tremendous relationships made every single time, and many roommates become long-term accountability partners far after the conference has ended. We will let you know of your roommates prior to the conference so that you can say hello to each other this year too! You'll know everyone attending because we'll open the conference Facebook group soon so you can get to know the other attendees.
+ What should I bring with me?
Your favorite pen for note taking and 25 business cards, and a pair of flip flops. ;) In terms of what to wear, we suggest stylish but comfortable during the day and for most dinners. Our last dinner will be a bit business casual. Make sure to bring comfy lounge wear for evenings on the porches. A more detailed schedule and suggested dress code will be delivered closer to our time together. As usual, please don't hesitate to let us know if you have questions!
+ What if I have dietary restrictions?
We pay careful attention to your restrictions, allergies, or aversions and will tailor your meals to suit your needs. Expect a follow up email after our menus are selected to confirm they will be appropriate for your dietary needs.
+ How many people attend and what is the content like?
Our Conference this year includes 17 attendees and 6 speakers. A small group allows for a lot of time to dive deep into the content and learn from each other. We'll spend some time as a group in the main room for our main sessions, while also breaking out into small groups for breakouts that are focused on helping you to work through what you're learning even more.
+ How do I get there and where do I park?
Flights are available through the Pensacola International Airport and are very reasonable via Southwest Airlines. Ubers and taxis are available as transportation from the airport to the beach house. Our house is approximately 14 miles from the airport. Parking is available at the house directly on the property. No hotel parking fees here!
+ This conference is a lot more expensive than some other creative conferences. Why?
We know the Conference is a big investment, but our goal is to make it a priceless experience for you. Three nights of accommodations are included, along with breakfast, lunch, and dinner as well. All you have to cover is your travel, and we will take care of the rest. Our Conference fee covers time with our experts, our workbook full of pages for your business planning, and some delightful surprises along the way. We bring in TOP talent and experts with real business experience. Once you have joined us as a Conference Alum, we offer alumni discounts on future events and you have access to our exclusive alumni forum, full of creative business owners just like you. We do offer a payment plan at the regular rate to help with the investment. All you have to do is get here and the rest is taken care of for you.
+ Are my travel costs included in the price?
Conference Registration includes your meals, your accommodations, and all conference materials. Your individual travel costs for you to come and join us are not included in Conference Registration. The way that we look at it is all you need to do is get here, and we will take care of the rest for the time you are with us at the Conference!
+ Do you offer refunds?
Due to the all inclusive nature of the Conference, all registrations are non-refundable and non-transferable, and we are unable to offer refunds after registration (unless something crazy happens and we had to postpone or cancel the conference - then we'd happily fully refund your registration).
See the recap of our Spring 2018 Conference Experience above!

Our 2019 Conference is sold out.

If you'd like more details on our 2020 Conference Experience, join the waitlist below.
If you are interested in learning even more about our Conference Experience, read a few of our recent posts.